This is your 48-hour window to take a leap and create an amazing, abundant life for yourself, with Jackie right by your side!
This very special offer is exclusive to party guests. Sign up for the TransformU Inner Circle before the countdown runs out to get full access to the course. PLUS a private psychic medium reading with Jackie — not available anywhere else!
Join the TransformU Inner Circle today
Normally $4,777 - save $780!
Stay tuned for further updates
Be Quick! This limited offer ends at 8pm on Friday,
September 15, 2023 unless sold out earlier.
Abundance. Happiness. Generosity.
You don't have to stay stuck in survival mode – life can be whatever you want it to be! There's no limit to your potential. You're heading in the right direction to TransformU.
Here's how you'll TransformU
You're only six modules away from creating the life you've been craving — figuring it out on your own hasn't been working for you. Once you've signed up and the course commences, you'll have access to the modules for 12 months. 
There are two lessons within each module, sent to you over the course of 12 weeks. If you fall behind (yep, it happens!), the beauty of learning online is you can catch up whenever you can. This is how TransformU will roll. 
What is manifestation and how does it work? You'll learn more about typical Manifestation blocks and how to overcome them.
Money, Wealth & Abundance
What does abundance really mean? You'll learn ways to manifest the creation of abundance of wealth, money and prosperity.
What do relationships mean in your life? You'll learn now to build a relationship with yourself and a relationship with others.
How do you tune into your intuition? You'll learn how to supercharge your intuition to help guide your decision making.
What are boundaries, exactly? You'll learn how to prioritise yourself through boundaries and put boundaries in place.
Be, do and have whatever you want! In the final module, you'll learn how to embrace the truest form of you!
Plus, surprise bonus content along the way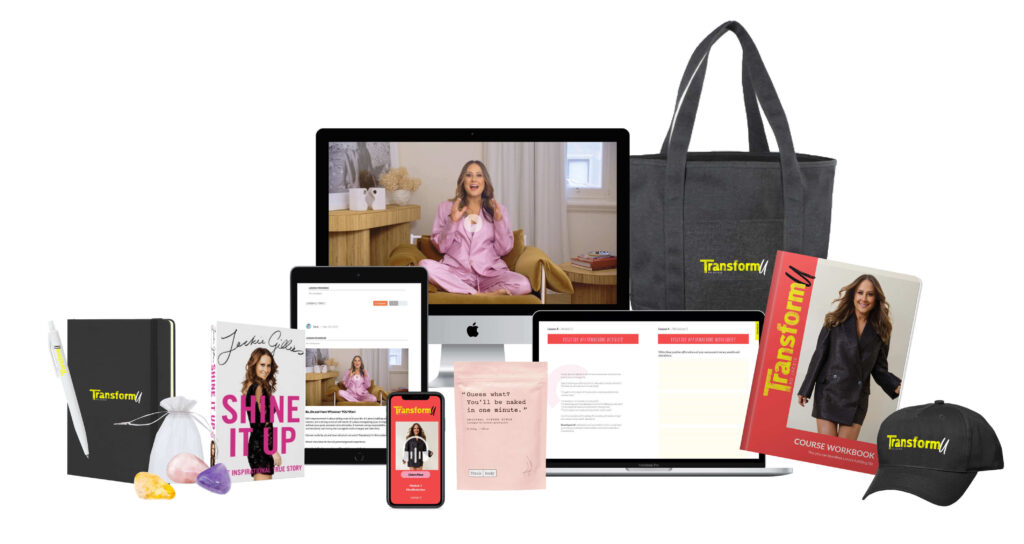 What you'll get with TransformU​
Tune into who you really are. Let go of what's not serving you.
Jackie is the personification of a sun ray! Jackie is truly a gifted and beautiful human being, and I feel honoured and blessed to have met her!
ANNA
Melbourne
Jackie's words have given me the motivation to live everyday to the absolute fullest, with no regrets, and to take time to focus on myself. Thank you, Jackie.
Chris
Gold Coast
All I can say is, Jackie obviously has a connection that enables her to get crystal-clear, accurate and insightful messages, bringing love and positivity.
Liz
Melbourne
Frequently asked questions
Leave your crazy-busy, unfilling life behind. You just need a little hand-holding to get you where you want to go. Your TransformU learning journey is about to begin. There's just a few things you may want to know. 

In this FAQ section, we've answered the most frequently asked questions about TransformU.

How do I access the online TransformU course?
Upon payment, you'll receive login credentials or an access link via email. Use this information to log-in to the course platform. On the course's scheduled start date, here's where you'll find the course content per week.
There are two lessons within each module, over the course of 12 weeks.
Is there a specific schedule for the course?
TransformU is a self-paced course, allowing you to participate in your learning journey at your own convenience. However, new course content will drop every week from the scheduled start date.
If you fall behind (yep, it happens!), the beauty of learning online is you can catch up whenever you can.
How long will I have access to the course materials?
Once you have signed up to TransformU, you'll have access to the online course content for 12 months from the time of purchase.
Will I get to meet Jackie Gillies?
TransformU inner Circle participants will have the following opportunities to meet Jackie throughout the duration of the course.
Priority retreat invitation
Private reading with Jackie.